Family night stalk - Kyeamba Valley Landcare Group
Date:
9 Sep 2011 - 5:00pm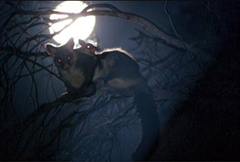 © Esther Beaton
Brave children and their parents are invited to join the Kyeamba Valley Landcare Group's Family Night Stalk!
The night will start with a free BBQ. Australian National University Woodlands scientist, Rebecca Montague-Drake, will then lead the group on the night-time stalk, as we discover arboreal marsupials in our local woodlands.
When: Friday 9 September. 5.00 pm BBQ with night walk beginning at 6.00-6.30 pm.
Where: Meet at Tooles Creek TSR (Travelling Stock Reserve), cnr Tumbarumba Rd and Gregadoo (East) Rd, 8 km south of Ladysmith
Cost: Free
RSVP (for catering): Nicole Maher - nmaher@murrumbidgeelandcare.asn.au, or 0487 953 776
Please wear sturdy shoes.